Reviews
5 stars
(1435)

tamlynredux on Jul 1, 2019
I love these little surprises! Amanda and her crew always send the best goodies to go with my collection. Always satisfied with packing methods as well; many could learn how to ship safely from Sublime Pottery!
Definitely a favorite in my collection! The colors are amazing!!

Absolutely gorgeous 😍 the misfit drip is barely noticeable (in fact I'd forgotten about it until I came to leave the review) and its got such a lovely heft to it.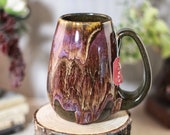 38-E Molten Beauty Notched Mug - MISFIT, 14 oz. - 10% off

It's (almost) all about the handle! Love the colors, and Amanda Joy's mugs always carry the care she and her team put into these usable pieces of art. I've given away so many, but this one stays put!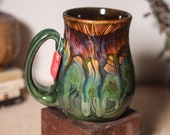 25-A New Earth Barely Flared Notched Mug - MISFIT, 18 oz. - 10% 0ff

This mug is even more beautiful in person! Of all the amazing mugs I've purchased from Sublime this might be my favorite, this purple glaze is spectacular. Janet always packages these mugs with love and care.
Alana Hunter on Jun 15, 2019

This mug is so much more stunning in real life!! Love the splash of color it adds to my steadily growing Sublime collection!

Such a great mug to add to our already large collection.
This mug is so beautiful! I love this color combo, it reminds me of the ocean. These are the best tea mugs money can buy, I receive so many compliments from guests about these mugs. Highly recommend.

Love, love, love this mug! The handle on this mug is so perfectly balanced making it super comfortable to hold. The colors on this mug are so beautiful and as always with Sublime mugs the tea bag notch is an awesome feature. This mug is different from my other Sublime purchases in that it is signed on the bottom rather than featuring the Sublime/year stamp. Highly recommend these tea mugs!

Jen Pollard on May 27, 2019

Simple beauty. This may not be as dynamic as Sublime's usual offerings, but she is magical just the same. Feels so good to hold. Just a reliable comfortable mug!

Beautiful mug! Love the acorn shape. This mug was a gift for my father in law's birthday, he absolutely loves his new tea mug. These mugs are such great quality and always unique - people are always commenting on the notch for the tea bag string and how much they love it (as do I!) Packaging if the mugs is always spectacular too - highly recommend for yourself or as a gift.

Karen Ryker on May 18, 2019

Awesome. Great weight. Handle feels good in the hand and edge feels good on the mouth.

51-D Molten Bliss Barely Flared Notched Mug - MISFIT, 16 oz. - 20% off

 

 

StephanieDecker on May 18, 2019

Gorgeous lava falls piece from Amanda! My collection just keeps growing! Thank you Sublime Pottery 😍

daisycostanza on May 16, 2019

Such a beautifully made mug. The glaze is amazingly intricate and done extremely well.

17-B Copper Agate Barely Flared Notched Mug, 17 oz.

 

I actually think the mug is prettier in person than in the listing photo, much warmer. The colors reminded me of our trip to New Mexico so many years ago - it's my new favorite.

17-B Sonora Snow Notched Mug, 15 oz.

 

 

I have dozens of Sublimes mugs, this is probably my favorite so far. It was listed as a misfit because Amanda is a bit of a harsh self critic sometimes, it is perfectly misfit and completely stunning!!!

40-D PROTOTYPE Barely Flared Notched Mug - MISFIT, 19 oz. - 30% off

 

 

As always a WIN from sublime! There is such gorgeous movement amongst the multiple layers of glaze. Beautiful work. Second to none! 💟

16-A New Earth Notched Stein Mug - TOP SHELF MISFIT, 19 oz.

 

 

Lovely Atlantean Jade mug...I've been wanting one of these glaze type mugs for so long and finally have it to add to my collection! Great packaging and fast shipping as always!!

30-E Atlantean Jade Barely Flared Notched Mug, 16 oz

 

 

Wonderful mug! Exactly as pictured. Well packed and fast international postage. Thank you!

47-D Lava Falls Flared Notched Mug, 18 oz.

 

 

Another fantastic mug added to our ever expanding collection. This one was sort of spur of the moment since we had missed out on one of the others that were in this batch. Love it just as much as what we wanted! Amazing piece of art that we use daily!

 

Lauren Demitrack on Apr 26, 2019

Absolutely gorgeous! I love the shape of this mug and the colors are even better in person. It arrived promptly and was packed with great care.

40-D Atlantean Falls Notched Mug, 15 oz.

 

 

It's perfect! I'm slowly switching all of my mugs to your handmade beauties 👍

04-D Electric Wave Notched Mug - TOP SHELF MISFIT, 19 oz.

 

 

I love Amanda's pottery. I have numerous pieces, but I must say, this is my absolute favorite. This mug is dark, but in the light, there are purples, turquoises, and light blue (maybe)....like a cloud-covered midnight sky. The shape is wonderful and the thicker handle is awesome.

See more reviews here